We provide expert landscaping services for homes and businesses in Califon, NJ.
Transform your outdoor living space into a beautiful backyard oasis with our landscaping services.
Califon, NJ in Hunterdon County is a borough established in April 1918. This small community is just a short drive from the Ken Lockwood Gorge Wildlife Management Area. This is a scenic park where you can hunt, fish, and walk alongside the 2.5-mile portion of the beautiful Raritan River that flows in the gorge.
Our team at Trevor's Landscaping provides expert landscaping services for commercial, residential, and HOA properties in Califon, NJ. We will make your vision come to life and transform your dull outdoor living space into a beautiful backyard oasis where you can spend time with your loved ones.
---
We design and build beautiful softscapes and hardscapes for your home or business in Califon, NJ.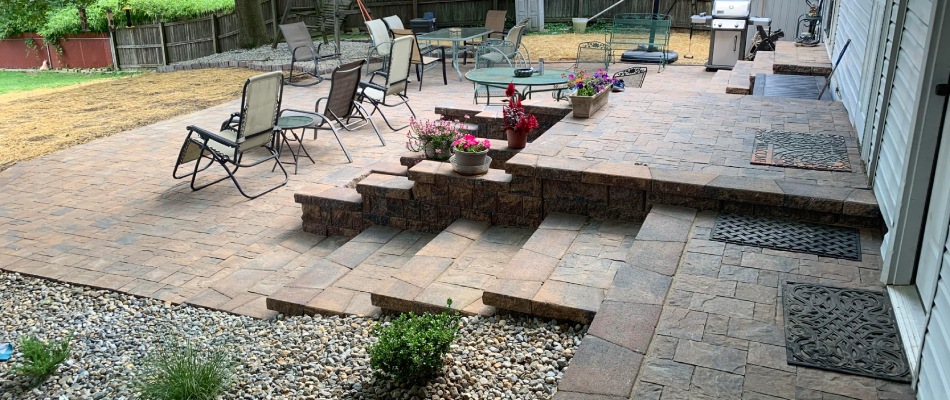 Creating a beautiful outdoor living space for your property in Califon, NJ takes a lot of work—something we do excellently. We will help you improve your landscape with the following design and build services:
Landscape Design: We will create a 2D or 3D design that meets your vision and goals for your new landscape.
Plantings & Softscapes: Our team can install and renovate landscape beds and add gorgeous perennials like azaleas, junipers, barberries, and more.
Patio Installation: We use high-quality pavers to build you a patio for your home or business in Califon, NJ where you can spend time either by yourself or with loved ones.
Walkway Installation: Improve mobility on your property by installing a walkway made from durable and high-quality materials.
Driveway Installation: Roll out the red carpet for your vehicle with a long-lasting, sturdy driveway.
Fire Pit Installation: Whether you want a propane, gas, or wood-burning fire pit, we'll install one in your outdoor space so you can enjoy warm nights around the fire staring at the sky.
Outdoor Fireplace Installation: Spend intimate moments with friends and family in front of your outdoor fireplace, which also provides a grand statement piece for your yard.
Landscape Lighting: Installing landscape lighting on your property in Califon will highlight your landscape's beautiful assets while helping deter burglars.
Retaining Walls: We use top-quality materials to install retaining walls to stabilize the soil on your property and add usable space to your outdoor area.
Seating Walls: Let our team add functional seating walls to your property so you and your guests have more comfortable seating areas.
Outdoor Kitchens: Prepare delicious meals for your loved ones in your outdoor kitchen while enjoying the cool air.
Pergola Installation: Pergolas add shade to your outdoor entertainment area, so you don't get hit directly by sun rays.
Pavilion Installation: We can add a pavilion to your yard where you can hold events and special occasions or simply spend some time by yourself!
Gazebo Installation: Make your outdoor living area in Califon, NJ more inviting and comfortable for your family and friends by installing a gazebo.
Cabana Installation: Our team can build a cabana in your yard where you can seek shade and protection from the sun and rain.
Swimming Pool Installation: Make your backyard the perfect summer oasis by installing a swimming pool where you and your friends can take a refreshing dip.
---
Call our experts to schedule our professional landscaping services!
Our team at Trevor's Landscaping offers reliable landscaping services to commercial, residential, and HOA properties in Califon, NJ. From the start to the finish of our design and build services, we will keep clear and open communication with you so you can rest assured our work meets your expectations. Call our experts today at (908) 399-6281 to schedule our landscaping services.