Professional Landscaping Services in Nazareth, PA
We offer a three-year warranty on hardscapes and a one-year warranty on plants!
With plenty of parks, iconic vineyards and breweries, great restaurants, and more, Nazareth is a wonderful city in eastern Pennsylvania. This city is also home to the Moravian Historical Society and The Martin Guitar Company, making it perfect for those of diverse interests. Other recreation opportunities include hunting, fishing, and of course, skiing on Blue Mountain!
We're proud to provide high-quality landscaping services to commercial, residential, and HOA property owners in Nazareth, PA and surrounding areas. Our services include landscape lighting, retaining wall installations, and much more. Call our team today at (610) 215-9286 to get a quote for your next landscaping service!
---
Our team can design and install a new patio, pergola, pavilion, gazebo, or cabana for you to enjoy!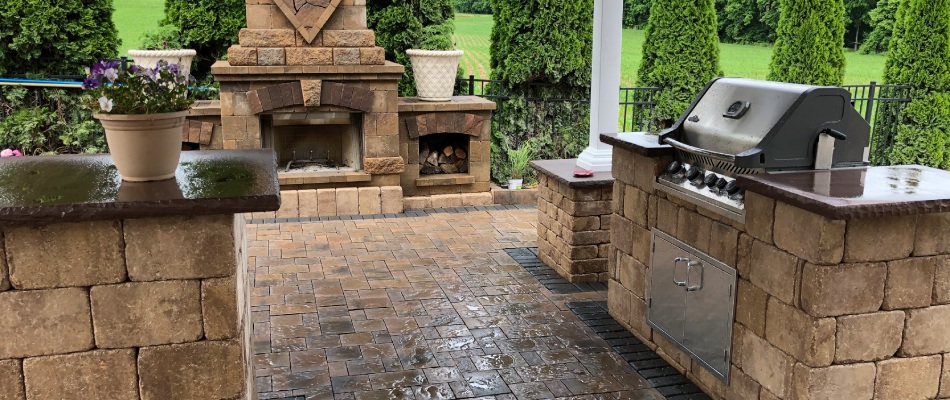 We can transform your property by constructing wonderful outdoor living spaces for you to enjoy with guests!
Patio: Adding a beautiful custom patio to your property will help increase your curb appeal and add to the aesthetics of your landscape.
Pergola: We can design and install a pergola for your property that is an excellent statement piece and allows you to still enjoy the sun.
Pavilion: Our pavilions provide a bit more shelter from the weather and are perfect for sitting out in the shade.
Gazebo: We'll create a gazebo out of beautiful, durable materials that fit in seamlessly with your landscape.
Cabana: Perfect for poolside hangouts, we can construct a custom cabana for you to use and beautify your backyard oasis!
Our outdoor kitchen installations can include features like pizza ovens, sinks, bars, and more!
---
We also install retaining walls, driveways, fire pits, and more.
We're well-versed in hardscape construction. We'll use materials that are both durable and beautiful like natural stone, bluestone, limestone, granite, and more!
Retaining Wall: If you're struggling with soil erosion or sloped land taking up space on your property, our retaining walls are the perfect solution and will be customized to address your concerns.
Seating Wall: For sturdy seating that looks like a natural part of your landscape, we can install a seating wall that adds extra accommodations and character to your yard.
Driveway: Our team can make your property the talk of the neighborhood with a new driveway made of materials that are durable and dazzling!
Fire Pit: For a cozy place to spend time with loved ones, look no further than our fire pits! These can be made custom to your needs or from a kit if you want to choose from pre-designed options.
Outdoor Fireplace: We can create a centerpiece in your property with our outdoor fireplaces, radiating a warm ambiance so even on chilly nights, you can get full use of your outdoor living space.
Our walkways will provide safe passage to all your guests as they enjoy your property!
---
Our additional services include softscape planting, landscape lighting, and more!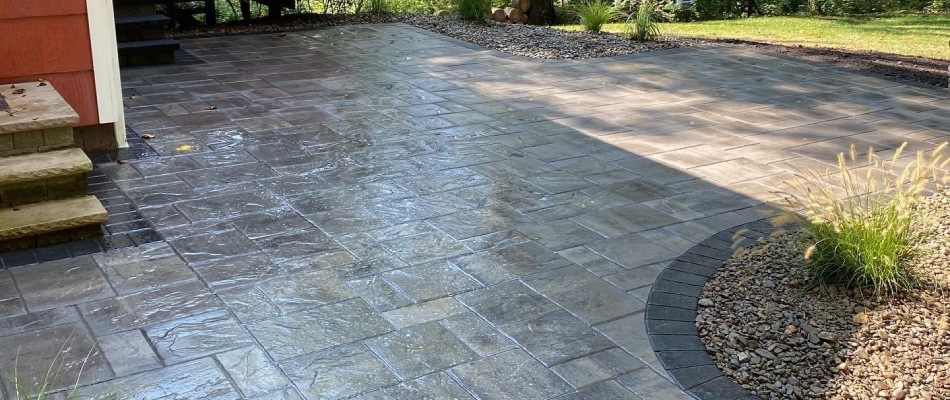 When we say full service, we mean it! We offer a myriad of other services to help you hammer out the finer details in your property and keep everything in good shape.
Plantings & Softscapes: We can reinvigorate your landscape with plants that thrive in our area and look great while they're at it, including azaleas, junipers, boxwoods, barberries, and more!
Landscape Lighting: Our team can create a custom lighting solution that highlights the best features of your property!
Hardscape Cleaning & Sealing: Schedule our hardscape cleaning and sealing service to deep clean and protect the hardscape elements in your property.
To make sure everyone is seeing the same vision before the project begins, we offer landscape design renderings.
---
Call us today to schedule any of our expert landscaping services!
At Trevor's Landscaping, we take our work very seriously. We treat every job with the high level of respect and attention to detail necessary to achieve perfection! To ensure we're always living up to our high expectations, random checks are done throughout the course of our projects to check our work. Then, we'll do a walkthrough with you to confirm that everything is as it should be! Your satisfaction is our #1 priority. Our services are available in Nazareth, PA and nearby cities. If you're in the area and ready to get started, call our team today at (610) 215-9286 to schedule any of our expert landscaping services!