We offer landscaping services to properties in Warren County, NJ.
Our team designs and installs softscapes and hardscapes like landscape beds, patios, outdoor kitchens, and more.
Warren County is a county in New Jersey that has a population of more than 110,000 people. It encompasses over 360 square miles and is bordered to the west by the Delaware River. Some of the notable municipalities in Warren County include Belvidere, Washington, Oxford, Phillipsburg, and Stewartsville. The county features beautiful scenery and is a great place to experience nature at its finest by visiting parks and nature centers, such as the White Lake Natural Resource Area and Beaver Brook Wildlife Management Area.
Our team at Trevor's Landscaping proudly offers top-quality landscaping services to commercial and residential properties, as well as HOAs, in Warren County, NJ. We take pride in helping property owners upgrade their properties by designing and installing a variety of softscapes and hardscapes, such as landscape beds, patios, outdoor kitchens, swimming pools, and many more.
---
Our landscaping services include landscape design, landscape renovations, patio installation, and more!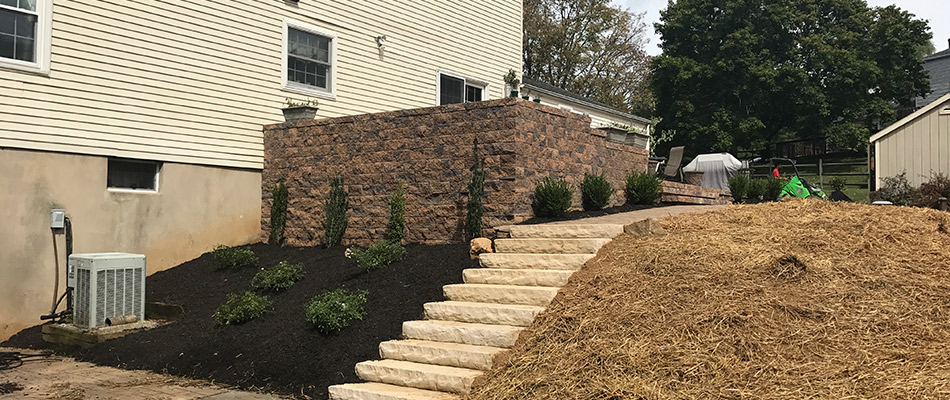 The landscape of your dreams doesn't have to remain a dream. When you work with our team, we will help you turn your dream backyard oasis into a reality with the following landscaping services:
Landscape Design: We can create 2D or 3D design renderings to give you a visual preview of how your completed landscape will look before installation even begins.
Landscape Renovation: Our team installs and renovates landscape beds and will help you choose the perfect plants to add to your property in Warren County, NJ.
Patio Installation: We construct beautiful, durable patios using sturdy materials like bluestone, brownstone, granite, and more.
Walkway Installation: Improve mobility in your outdoor living space with our top-quality walkways, which are made with materials like concrete and stone pavers.
Driveway Installation: We offer various materials to build your custom driveway that will surely improve your curb appeal!
Retaining Walls: If your property in Warren County is located on a slope, we can install retaining walls using manufactured concrete to control soil erosion and give you more flat, usable space.
Seating Walls: We build seating walls using manufactured concrete so you have more seating space for outdoor gatherings!
Fire Features: We install custom and kit fire pits and outdoor fireplaces so you can enjoy a cozy, warm backyard!
Outdoor Kitchens: Our outdoor kitchens are customizable to meet your needs. You can add features like grills, pizza ovens, sinks, and more.
Landscape Lighting: We will create a custom landscape lighting design and use low-voltage, energy-saving LED lights to showcase your outdoor space at night.
Pergola, Pavilion, Gazebo & Cabana Installation: Elevate your property by installing a pergola, pavilion, gazebo, or cabana!
Swimming Pool Installation: Our team installs freshwater and saltwater fiberglass swimming pools where you can take a refreshing splash during the warm summer days in Warren County!
Hardscape Cleaning & Sealing: This service involves thoroughly cleaning your hardscapes and applying a high-quality sealant to protect them from the elements.
Artificial Turf Installation: If you want a lush, vibrant lawn without the maintenance that comes with it, we can install artificial turf on your property.
---
Call us today to schedule our landscaping services!
Transforming the appearance of your landscape is a surefire way to boost your property's value and visual appeal. At Trevor's Landscaping, we're happy to help you with this undertaking! We offer professional landscaping services for commercial and residential properties, as well as HOAs, in Warren County, NJ. Our team prides itself on professionalism and attention to detail, so you can trust in the quality of our work. If you want to get the best results for your property, give us a call today at (908) 399-6281 to schedule our landscaping services!