Professional Landscaping Services in Bethlehem, PA
We're members of the Interlocking Concrete Pavement Institute!
Bethlehem, PA is a unique meeting point of incredible history and modern luxury. You can peruse novels at a 275-year-old bookstore, play the slots at a casino, visit the first American college to educate women, and enjoy one of the over 1000 musical events and festivals hosted here – all within the same city walls. With so much diversity, Bethlehem is an exceptional place to spend time and was even rated one of the 100 Best Places to Live in the US by Money Magazine!
Our company provides top-notch landscaping services in Bethlehem, PA and surrounding areas. We're devoted to leaving each property better than how we found it and we want to help you create the landscape of your dreams! Our services include patio installations, landscape lighting solutions, retaining walls, softscape plantings, and much more. Give our office a call today at (610) 215-9286 to speak with our team and get a quote on your next landscaping service!
---
Our landscaping services include landscape lighting, patio installations, fire pits, and much more!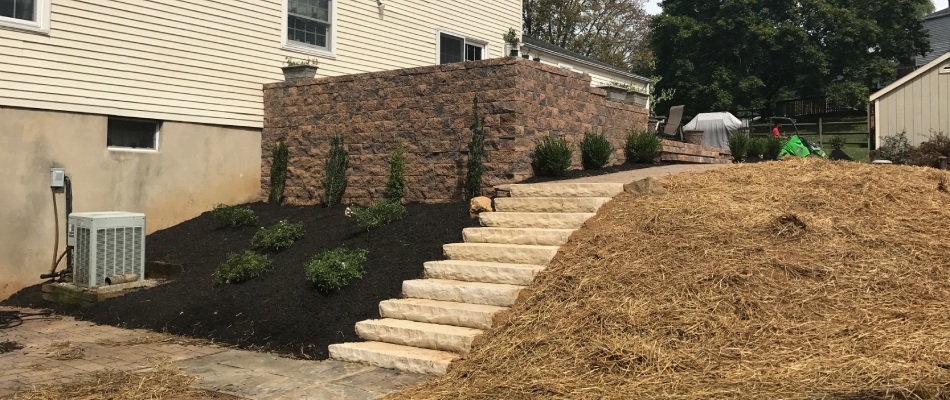 To kick off your project, we offer professional landscape design services where we can create either a 2D or 3D rendering of your vision to use as a reference throughout the installation. After your project is complete, you can schedule our hardscape cleaning and sealing service to ensure it's in the best possible condition and help protect it from the elements! And so that nighttime doesn't mark the end of the party, we offer landscape lighting as well. We'll use high-quality LED bulbs and can even make them color changing, add an automatic timer, or include Bluetooth setup capability!
We can install several stunning hardscapes for you, including a new patio that will give you a great space to enjoy the fresh air – or consider a larger structure like a pergola, pavilion, gazebo, or cabana for an upgrade! We can also create walkways and driveways out of the same materials to add cohesion throughout your landscape. We use materials that are not only durable, but beautiful as well, including natural stone, bluestone, brownstone, sandstone, and more! For outdoor kitchens, we can add in amenities like pizza ovens, TVs, refrigerators, and much more. Or, to keep it simple, we also offer pre-designed kits so you can take it easy and still reap the benefits of a wonderful outdoor kitchen at the end!
Our team can create retaining walls to reclaim space on a sloped property and prevent soil erosion. We can also install seating walls to help you have extra accommodations for guests! And to create a warm ambiance on your property, we offer fire pit and outdoor fireplace installations. If a fire element isn't your style, our professionals can also install the most wonderful water element of all – a swimming pool!
Our plantings and softscapes service is perfect to spruce up your property, whether you want a new installation or full renovation!
---
Call us today to schedule any of our expert landscaping services!
At Trevor's Landscaping, we are proud of the work we do, and that shines through in our daily attitude and attention to detail. We aren't happy unless everything is perfect, so we'll work tirelessly until we achieve that. Our team members are knowledgable and passionate about their craft, so you can count on us to deliver above-and-beyond results alongside exceptional customer service every time. Our services are available to commercial, residential, and HOA property owners in Bethlehem, PA and surrounding cities. If you're ready to get started on your project and create the landscape of your dreams with us, call our team today at (610) 215-9286 to schedule your next landscaping service!