We offer landscape design and installation services to homes and businesses in Clinton, NJ.
Our team designs and installs softscapes and hardscapes to improve your curb appeal and property value.
The picturesque town of Clinton, NJ in Hunterdon County is home to about 2,700 people. As one of the most beautiful towns in the county, there's a lot to enjoy here. One of these attractions is the Red Mill Museum Village, where you can see the historic Red Mill that was built in 1810. The scenic Spruce Run Recreation Area is another place you need to visit here, as it boasts a gorgeous view of Hunterdon County.
At Trevor's Landscaping, we are happy to help commercial and residential property owners in Clinton, NJ improve their curb appeal and increase their property value with our landscape design and installation services. From landscape design to softscapes and hardscape installation, we offer everything you need to create your ideal backyard oasis.
---
Improve your outdoor living space by adding a patio, fire feature, and more.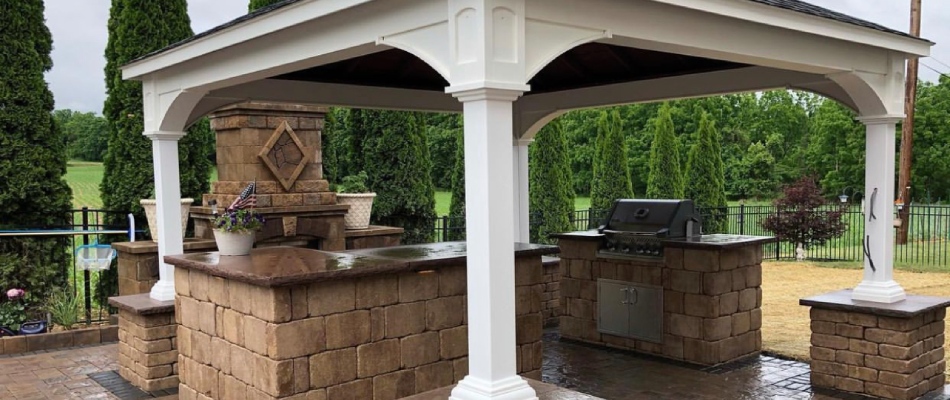 Spending time outdoors is enjoyable when you have a stellar outdoor living space, and we're here to make sure you have an oasis right in your own backyard. We start with our landscape design service, where we listen to your thoughts and vision for your property in Clinton, then create a design rendering so you can see what your property will look like when all of your projects are completed.
Adding a patio is a great way to start creating your backyard oasis, as it provides an excellent spot for gatherings. We can also install a fire feature so you can cozy up with loved ones at night, gathered around the warmth of the fire. Installing landscape lights is also vital. They will brighten up your landscape and highlight features of your property after the sun goes down.
Plantings & Softscapes
Outdoor Fireplace Installation
---
We can install driveways, walkways, retaining walls, and seating walls.
Your driveway will be one of the first things that people see when they visit your property, so you'll want to have a great-looking driveway so you can make a good first impression on guests and passersby. When can also build walkways throughout your property to provide designated walking areas. We can even use the same materials for your driveway and walkways to create a cohesive look.
If your home or business is on a slope, we can build a retaining wall that will help prevent soil erosion and can add usable space to your property. We also offer seating walls to add extra seating space to your property.
---
We Install Pools, Cabanas, Gazebos, Pavilions, & Pergolas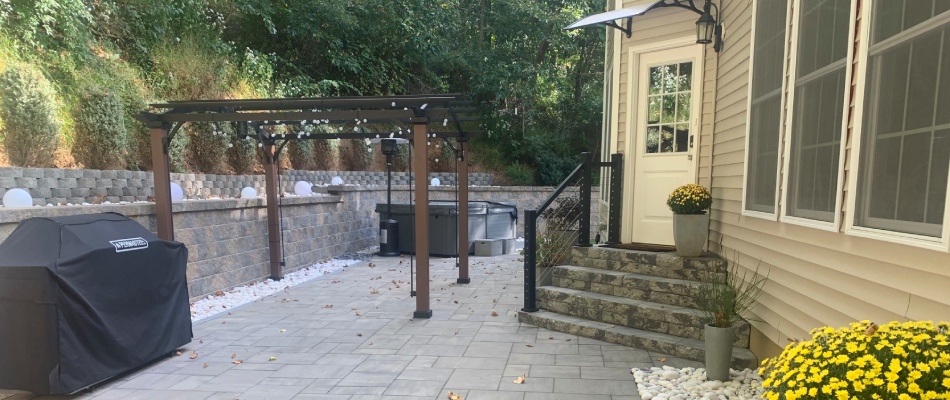 Getting in the pool is always a fun and exciting way to spend time with friends and family. At Trevor's Landscaping, we can install a pool on your property in Clinton, NJ that you can customize by adding features like sun shelves, bubblers, waterfalls, and more. We also install cabanas, gazebos, pavilions, and pergolas that will not only provide you with refuge from the sun or rain, but will also increase the aesthetics of your outdoor living space.
---
Call our team today to schedule our landscape design and installation services.
When it comes to creating gorgeous outdoor living spaces, we are the company to call. We offer our services to commercial, residential, and HOA properties in Clinton, NJ. Our team strives to provide reliable and high-quality landscape design and installation services so you can enjoy a beautiful backyard with your loved ones. Call our team today at (908) 399-6281 to schedule!