High-Quality Hardscaping & Landscaping Services in Lopatcong, NJ
We can install patios, walkways, and driveways, design your dream landscape, and more.
Lopatcong, NJ, is a township that sits along the Delaware River. It offers various things to do, such as playing a round of golf at Architects Golf Club and spending the day at Lopatcong Park Pavilion. You can also enjoy nature and the beautiful scenery at the Marble Hill Natural Area, which also features an Ice Cave!
At Trevor's Landscaping, we provide high-quality hardscaping and landscaping services for commercial and residential properties and HOAs in Lopatcong, NJ. Our team can help take your outdoor living space to the next level by installing a patio, walkway, and driveway, designing your dream landscape, and more!
---
Our Hardscaping Services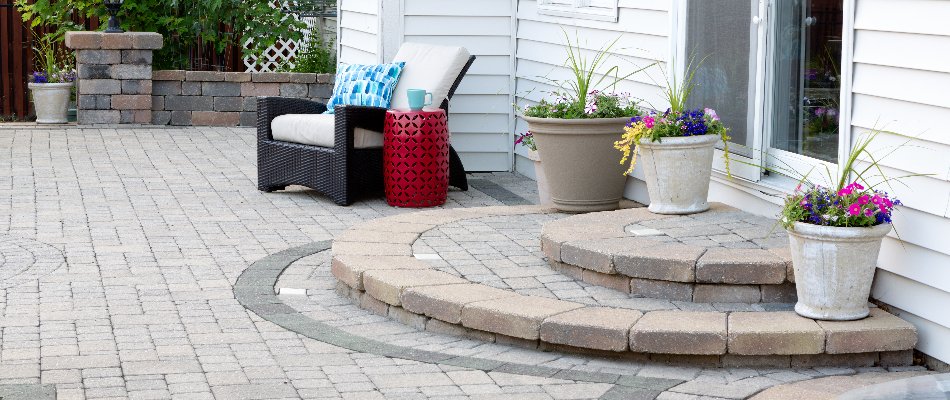 Hardscapes will improve the functionality and aesthetics of your outdoor living space in Lopatcong, NJ, and our team is here to help you achieve that! We offer several hardscaping services, where we can design and build features like patios, walkways, and driveways made from durable materials, such as flagstone, natural stone, concrete pavers, and more.
We can also install retaining walls and seating walls. Retaining walls help control soil erosion and create more flat, usable space on your property, while seating walls provide built-in seating for guests. Meanwhile, our fire pits and outdoor fireplaces are a great way to stay warm during the colder weather here in Lopatcong, which can burn wood, propane, or natural gas. On the other hand, we can install a fiberglass swimming pool with either freshwater or saltwater to keep you cool during the warm weather!
Outdoor kitchens are just what you need to increase your property's value. You can also add amenities like refrigerators, sinks, and pizza ovens to make yours truly unique and functional for your needs. We even build pergolas, pavilions, gazebos, and cabanas to make a statement and provide protection from the elements while relaxing outside. But wait, that's not all - our team can clean and seal your hardscapes to keep them pristine and ensure they remain durable features for years to come.
---
Our Landscaping Services
Our landscaping services are just what you need to elevate the aesthetic appeal of your property in Lopatcong, NJ! We can design your dream landscape and create a 2D or 3D rendering so you can see how it'll look before installation begins. If you want to reimagine your landscape beds, our crew will help renovate them and add eye-catching plants, including azaleas, junipers, boxwoods, barberries, and more.
Don't limit your outdoor living space to the hours of the sun - brighten it for nighttime use with landscape lighting! We'll install low-voltage LEDS, which are long-lasting and energy-efficient, with Bluetooth compatibility so that you can control them from your smartphone. Meanwhile, we can install artificial turf on residential properties in Lopatcong to replace your entire lawn, create a putting green, or any other reason.
---
Call us today to sign up for our hardscaping and landscaping services.
Here at Trevor's Landscaping, we offer top-of-the-line hardscaping and landscaping services to residential and commercial properties and HOAs in Lopatcong, NJ. From installing hardscape features and cleaning and sealing them to enhancing your landscape with lighting and newly renovated softscape beds - our team is here to help you do all of it and more! Call us today at (908) 399-6281 to sign up for any of our services.